The Captains
2022-23 Jeff Haywood & Susan Barber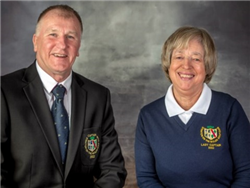 It is both an honour and privilege to be your Captains for the coming year. We thank both Roger and Sue for inviting us to be their Vice Captains.
We would like to thank those that have given dedicated time for free and especially Roger and Sue for guiding the club through another successful although difficult and challenging year.
We both intend to be at the club as much as possible and be approachable to the members to help with any queries or just for a chat!
We wish to ensure we uphold the standards and traditions associated with all good golf clubs but particularly SWGC eg Dress codes, respect for each other on and off the course including the staff.
We appreciate beliefs and social standards have changed over the years and feel we have a responsibility to embrace these developments and integrate them into our club values. Hopefully by doing so we will have an inclusive place for all our members to enjoy their golf and facilities we offer.
Our chosen charity for the year is the Samaritans, a mental health charity. A telephone line is staffed 24hrs a day, 365 days a year with volunteers ready to answer calls from those struggling to cope. They are all volunteers and receive no other funding other than charitable donations. None of us know when we might need help so we hope you will give generously during the year.
The link for donations is:
https://www.justgiving.com/fundraising/CaptainsStantonGolfClub
We are very lucky to be members of SWGC with a great course, good practice facilities and club house but above all it is the members that create the friendship and atmosphere that we all enjoy.
There will be social events planned during the year that we hope will appeal to members and trust you will give your support.
We hope we can all continue to enjoy SWGC and we will both do out best to make sure we all have a great year both on and off the course.
We fully intend to enjoy ourselves!
Jeff Haywood & Susan Barber